Advantages of Stamped Concrete
Stamped concrete is a type of decorative concrete that is imprinted, patterned, textured, embossed, or otherwise shaped to look like a variety of materials. The practice of stamping concrete dates back to ancient Roman times. Depending on the material, stamped concrete can have various finishes. You can contact Contractors for their expertise on stamped concrete. These materials are also durable and can be a great choice for many construction projects.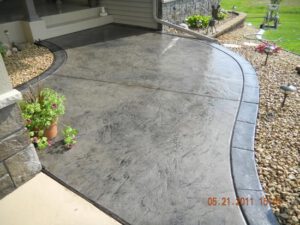 Cracking is a common problem for stamped concrete, but repairs are generally not difficult. While the material itself is very durable, it can be damaged by freeze and thaw cycles or by deicing salts during cold weather. In addition, cracks and breaks can be hard to hide, so sealing the surface is necessary. Even if a crack does appear, a patch-up can be easily done, though the color may not match the original.
While stamped concrete is easier to install than other types of paving material, it requires less maintenance. It is more durable than asphalt, natural stone, or precast pavers and does not require the same amount of maintenance. This makes it more affordable and faster to install. Stamped concrete also looks better than other materials, and its durability makes it ideal for a variety of projects. In addition to avoiding maintenance issues, stamped concrete is also resistant to wear and tear. Stamped concrete is a smart choice for any project where a smooth surface is essential.
There are a number of ways to create a stamped concrete design. Many people choose a natural stone pattern, but you can also choose a brick or cobblestone pattern to add a natural look. You can also combine the texture of stamped concrete with other decorative elements. This method can create a more realistic look, which may match the existing landscape or surrounding areas. And you can use a combination of different designs and colors for a unique design.
Another advantage of stamped concrete is its ability to mimic real materials. Its texture and color are nearly identical to those of real materials, and you would never know the difference. You can use the concrete pattern to enhance the look of your patio, pool deck, driveway, walkways, or interior floors. Stamped concrete is a great choice for homes, offices, and other structures. It can also be used to create faux tile, marble, or cobblestone.
Colored concrete is another option that looks amazing when applied correctly. Colored concrete can be dyed or stamped with different colors. You can use a color-release powder to add a distinctive element to your finished product. However, colored concrete can peel off or fade, which is why many professionals recommend that you use a powdered color additive before pouring the concrete. And if you choose to use colored concrete, make sure you have a good concrete sealer to keep the color from wearing off over time.
In addition to being durable, stamped concrete can last for decades if properly installed and maintained. This type of concrete is more durable than standard concrete, particularly if a color hardener is used. Usually, stamped concrete needs to be resurfaced every five to seven years. Moreover, it tends to deteriorate under traffic and heavy weight, so it is a good idea to hire a contractor who can do this job for you.
Decorative concrete is a great way to add value to your home. The process of installing stamped concrete is similar to that of pouring concrete, except that it involves stamping it with a pattern before it sets. The stamping process is very time consuming and requires multiple passes to ensure even distribution. You can also buy precast stamps to match any design you can think of. It is best to purchase them in the right size.
Another major benefit of stamped concrete is its affordability. It is an excellent option if you're looking for a finished surface that looks like brick or stone pavers. Stamped concrete costs as little as $8 per square foot compared to more expensive materials such as brick or natural stone. Additionally, it is durable, easy to maintain, and adds a decorative touch to any space. And because it is so inexpensive, it's a great choice for almost any budget.
Cost-wise, stamped concrete is a better option than other materials mimicked by stamping. Its price varies depending on the region, but it can cost between $8 and $18 per square foot. It can also be applied to patios, walkways, and driveways. Stamped concrete is a great option if you're looking for a more budget-conscious way to improve your home's curb appeal.
You can also visit our other websites and post your article.
Conduit Hardware,78 Britnell CRT, Aqua Tremblant, Win Cheap Guest House, Quick Response Plumbing, Tighgeal, Kyles Peace, Sylars, Beans Ferry Pottery, Central Counselling, Project Homesc, Tree Aurora,Kitchens Bathrooms Floors, New Horizons Tree Service, Howell Shandyman Remodeling, Blue Star Remodeling Il, 48 hour Camaro, Colorado Health Insurance, Yes To Save Homes, Boise Chiropractor, Paperless Office Solution, United 4 Safety, Ab Sessions Plumbing Building Services, COCSBDC 2, Loving Care At Home, Team You, Business Savvy, Iric Insulation, Nexusea, Housing Counseling Association, Auto Front Office, Becker Village Mall, SR Internet LLC, Susan Sell Severett , SEO Columbus Ohio, Lake Of The Ozarks Propane Home, Indy Folkfest, The Green Wood Kitchen, Akbar Concrete Works, Naperville Inspector.
concrete contractor
concrete patios
concrete repairs
concrete services
construction professionals