Cabinet Refacing – Give Your Kitchen a Fresh Look
When you have drab, outdated cabinets, cabinet refacing can give your kitchen a fresh look without spending a fortune. While you can have the cabinets replaced completely, cabinet refacing requires some preparation work. Older cabinets are often more durable than their newer counterparts, so preparing the cabinet's bones can be a challenge. With a little bit of knowledge, you can do it yourself, saving yourself thousands of dollars!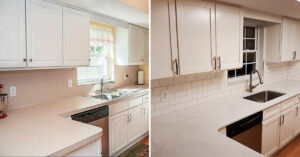 When you are planning to reface your cabinets, start with design inspiration and move on to the more concrete steps of ordering materials. The biggest part of a refacing cabinet project is the cabinet door. It sets the tone for the entire project. When looking for cabinet doors, consider the finish, size, and wood species before choosing them. Once you have selected the type of door you want, order it. This will set the overall tone of your refacing project.
Aside from giving your kitchen a fresh look, refacing your cabinets can increase the value of your home. In addition to making your kitchen a more functional and pleasant place to be, you can boost the marketability of your home by making the space more appealing to potential buyers. Whether you are looking to sell your home or simply upgrade your current cabinets, cabinet refacing is a budget-friendly way to upgrade your kitchen and make it more appealing to buyers. You can even get a higher offer on your home when you reface your kitchen cabinets.
Professional refacing is the best option when it comes to transforming your cabinets. Their skills allow them to complete a job perfectly the first time, and they can offer advice on what materials will look best on your existing cabinets. A professional can even help you decide which materials are right for your project and can guarantee the work. Lastly, you can also ask them to advise you about whether you need to replace the hinges of your cabinets.
Before you start the refacing process, you will want to make sure the surfaces are clean. Use a solution of water and trisodium phosphate to remove any oils and grease. Next, you'll want to remove any damaged veneer. This may require you to remove it piece by piece, but some professionals recommend you remove the old veneer entirely. A professional can advise you on the best technique and materials for your new cabinet doors.
A professional refacing service can take anywhere from 3 to five days, depending on the complexity of the layout. A professional can take as long as you'd like, or you can complete one drawer at a time on weekends. A professional can even do the work for you as long as you're patient enough. While cabinet refacing is an option, it's important to consider the structural integrity of your cabinets. The process can also be risky for your cabinets, so hiring a professional is a good idea.
A professional refacing service will remove old cabinet fronts and drawer fronts and paint them to match your existing cabinetry. You can also change the color, style, and wood type of your cabinets. Whether you'd like to change your entire kitchen design or just update the look of your current cabinets, cabinet refacing can help you achieve it! So, if you'd like to update your kitchen's appearance without completely gutting it, cabinet refacing might be the perfect solution.
The process of cabinet refacing involves replacing a variety of components of your cabinets, including the cabinets' doors and drawer fronts. In addition, your cabinetry hardware, including hinges, handles, and drawer pulls, will be replaced. Then, you'll cover the visible parts of the cabinets with a veneer. If done properly, your cabinets will appear brand new. It's a great way to get a new look without spending a lot of money.
Refacing is a quick and inexpensive way to update the look of your kitchen cabinets without having to tear out the old ones. It also doesn't cost a fortune and does not require as much time as an entire kitchen remodel. It costs about one-third of the cost of removing and replacing them. With some planning, you can still keep the countertop and save up to $1,000. The final step is to decide which method suits you best.
bathroom designs
bathroom remodel services
cabinet refacing
kitchen remodelling
shower designs