How to Increase the Value of Your Home by Remodeling Your Kitchen
You can improve the value of your home by remodeling your kitchen. The kitchen is the center of your home, and remodeling it will increase the value of your house. Kitchen Remodeling is the best way to add value to your house, even if it doesn't return its full cost. Listed below are a few ways to increase the value of your home with a small budget. But remember to plan your kitchen remodeling project carefully. There are some things you should consider before embarking on the project.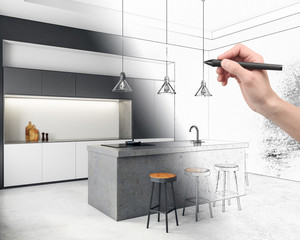 Make sure to add multiple outlets and USB sockets. You can also install ground fault circuit interrupters near water sources. If you have a high-tech appliance, have multiple plugs, including one for each electrical outlet. The same goes for a microwave. Designate a place in the kitchen for knives so you can find the knife you need quickly. Keep knives out of the reach of children with recessed slots to keep them in place and sheathed.
Before beginning the kitchen remodeling project:
Plan the design of your new space.
Turn your wants into needs.
Identify your budget and your desired outcome.
Keeping in mind the project's practicality, you can ensure that the new kitchen fits your family's needs while spending the least amount possible. A kitchen might be the best solution if you have a fixed budget and aren't prepared to spend much money.
A kitchen remodeling project requires time, planning, and research. Consider using a HELOC to finance your kitchen remodel. A HELOC may be an excellent solution for your remodeling project, but understand how variable interest rates affect the cost. Before using a HELOC, research your contractor and materials before applying for the loan. Also, remember that you must make allowances for eating out or storing big appliances. And if you want to save money, do some DIY tasks.
Consider adding smart gadgets to your kitchen. You can upgrade your kitchen with the latest technology, from smart taps to smart trash cans. Smart lighting and Alexa are two popular ways to modernize your kitchen. These innovative features will help you save money while transforming your kitchen. A well-planned lighting scheme and a functional layout will make your kitchen space convenient. You may even find yourself falling in love with it all over again.
Before you begin, make sure you know the cost of kitchen remodeling. The average cost of a major kitchen remodel is $33,000, and it can recoup up to 62% of its cost. Investing in a new kitchen is an excellent way to improve the appeal of your home. It also makes it a lucrative business for contractors and interior designers. So, research the cost of kitchen remodeling and find the right contractor for your project.
Adding an island to your kitchen can open up the space. This space-saving solution helps you open up the walls and change the floor plan. Using glass in the kitchen will give it the illusion of space. The new island can overlook the dining area or living room. That way, you can enjoy a new view of your kitchen from the comfort of your home. This is the perfect option for small kitchens. But if you're looking for a more elaborate solution, don't be afraid to experiment.
The cost of a kitchen remodeling project depends on many factors. First, the materials used and design. Next, the appliances and hardware. On average, a kitchen remodels project costs between $25,000 and $35,000, with the lowest-end single remodeling project costing as little as three or four thousand dollars. Ultimately, this is an investment in your home and a major one! Depending on the extent of the project, it can take up to four months to complete a major remodel.
You can add a new design element when remodeling the kitchen by changing the walls and floor color. For instance, if you already have hardwood floors, you can add patterns or other accents to give the room a new look. For less money, you can opt for engineered woods. Just be sure to choose a waterproof finish. This way, you won't have to worry about your kitchen floor getting damaged.
home remodeling
kitchen remodel
kitchen remodeling contractors
kitchen renovation
remodelers