How to Properly Install a Fence
A fence is a barrier between two areas. Usually, wood or wire marks boundaries restrict access or keep animals in. There are many uses for fences, from keeping out intruders to securing an area in an outdoor sporting event. Read on to discover why you might need one and how to install it properly. After reading this article, you will be well on creating your beautiful fence.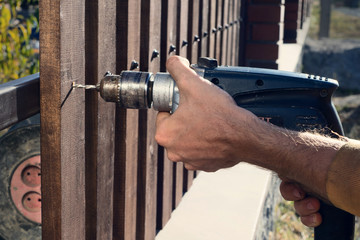 In addition to offering you quality work and reasonable prices, the fence company knows how to navigate obstacles and build fences that last for years. Hiring a professional Fence Company is best if you build a fence for your property. A qualified fence installer will be insured and licensed, and they'll also provide a warranty if something goes wrong. So, if you're in the market for a fence, get in touch with a fencing company today.
Before you begin building a fence:
Consider all the rules of construction and the safety of your neighbors.
Obtain a property survey for your area and check the boundaries of the property to determine if you can legally build a fence without violating the rules of your local government.
Contact the county records office to obtain a copy if your property has a lost property survey.
In addition, be sure to measure the entire perimeter of your property and mark the exact position of your gate.
If you plan to build a fence in a cold climate, you'll need to install concrete anchors in the posts. These concrete anchors are placed in the ground around 36 inches deep. They provide a secure foundation for the fence. For warmer climates, wood is not a good choice, but metal and bamboo are great choices. A fence made from either material will last for many years. The post tops will give your fence a finished look.
It's also important to remember that the fence's owners are generally responsible for the side that faces their property. This way, you can make changes to your fence without having to seek permission from your neighbor. However, this is a complicated and expensive process, so if you're unsure about the rightful owner, it's better to ask around first before making any changes. If you're in a bind, it's best to get permission from the landlord.
High-tensile wire fences are a good option if you're looking for a low-cost, long-lasting solution. This type of fence is usually made of single smooth steel wires, and is held in tension between end-post assemblies made of pressure-treated wood. Tension springs or permanent in-line stretchers maintain the wire's tension. The intermediate posts also need to be attached in a way that allows for lateral movement. It's also important to retension your wires at least twice a year.
Before installing your fence, ask yourself why you need one. Perhaps you want to keep a dog inside your yard, or maybe you want to block noise. Another possible reason is to add a decorative element to your property. Whatever your reason for installing a fence, remember that you can get help from the professionals at The Home Depot. In addition to professional fence installation services, The Home Depot offers tools and trucks for rent. There are a variety of fence types and materials available for purchase.
Aluminum is another popular choice for a fence. It is similar to natural wood and stone and can be made in many different colors. It's also relatively low maintenance and resistant to water, stains, and oxidation. Aluminum fences can also be customized to fit a variety of settings, such as gardens or shared spaces. Aluminum fences are an excellent choice for public and shared properties. There are also aluminum and steel options. Bamboo is also an excellent low-maintenance option.
Apart from serving its function, a fence adds to the curb appeal of a property. It prevents unwanted people from invading your yard and keeps wild animals and deer away. Additionally, a fence gives you peace of mind and makes you feel safe. So, don't delay in purchasing a fence. A professionally designed fence adds to your property's value and improves curb appeal. It also makes your property more appealing to prospective buyers, especially those with kids.
fence
fence installation
fence repair
fencing
fencing company