Shower Installation Tips
Before you start shower installation, make sure you have a clear idea of the task at hand. While single-panel shower stalls come fully assembled, multi-panel showers require additional steps to install. However, these showers are easier to install without the help of a professional, and they will give you more control over the look of the space. To ensure safety, be sure to wear protective eyewear and gloves while installing multi-panel shower stalls. Remember that water is hot, and improperly installed pipes may leak or cause moisture in the walls.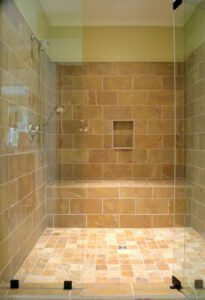 If you're looking to save money and time, hire a professional. Not only will this eliminate the hassle of multiple installation costs, but it will also eliminate unexpected issues. These professionals will help you pick the right shower for your space, offer product warranties, and provide hassle-free shower installation for you. Also, plumbing contractors specialize in shower installation and home remodeling products. Once you've chosen the right shower, you'll be on your way to relaxing in a warm shower.
Multi-panel showers require additional steps. You'll need to mark each panel and read the instructions to make sure you don't miss any. Then, you'll need to test-fit all panels. Some kits come with adhesive or fasteners. Make sure that each piece is level to ensure that you'll be satisfied with your new shower. In addition, you'll need to mark the walls and floors. In some cases, you'll need to measure your existing bathroom to ensure that the shower pan fits.
Before shower installation, remove old caulking and drywall. Before starting, make sure the floor is clean. A shop vacuum will help you with this process as it will pick up dirt and water from the floor. You'll also need to remove any existing valves and supply lines. Once these have been removed, you can install the new shower. If everything goes as planned, you're ready to install the new shower! With careful planning, you'll have the shower you've always wanted.
The panels must be properly installed to prevent leakage. Ensure that they're flush with the walls and level. Use a 3/8-inch bit to drill pilot holes. Be sure to use a panel adhesive that won't split. Some kits require you to screw nails or screw into pre-drilled holes. While others require you to use a panel adhesive that's safe for both plastic and fiberglass, some require you to use both.
To complete the shower installation, you'll need to waterproof the walls. This is essential as water-resistant wallboard will prevent the growth of mold and mildew on the walls. If it's not, the walls may become cracked instead of sloped. Depending on the type of shower installation, you might also want to install a waterproof shower curtain and a glass door. It's a great way to ensure that your bathroom stays watertight for many years.
One of the most important things to consider when you're installing a new shower is the size. A quarter-inch shower will require an additional four to eight square feet of wall space, while a half-inch shower will require more than twice as much. For a half-bath, the cost can be as low as $5,000. However, if you're doing a shower installation in a bathroom with a smaller space, it's important to consider the shape of the room. You'll also need to figure out how many people will be using the shower.
Glass tiles are the most popular choice for shower walls. These tiles come in many different colors, sizes, and textures, and can cost anywhere from twenty to fifty dollars per square foot. Glass tiles are extremely easy to clean, and come in mosaics. Despite being expensive, they're a great choice for anyone who wants a walk-in shower in their bathroom. They also come in many different finishes and can be installed on the floor, walls, or ceiling.
Another option is adding a shower to an existing bathtub. For this option, you must remove the existing tub, and choose a suitable option to support both the tub and the shower. In addition to adding a shower, you can also choose a larger tub if you have one. This method of shower installation costs around $3,000 and the average size of the tub-shower combo is thirty by sixty inches. The average cost of a tub-shower combination is $240 per square foot, which includes labor and materials.
bathroom remodel services
bathroom remodelers
multi-panel shower
shower designs
shower installation